Normally at this time of year I'd be making my way to Starland Ballroom for some Holiday Show or another, but this is year is different. While we can't all celebrate the holiday's together this year, there's still plenty of livestream options to keep the holiday concert tradition alive! Here are some great holiday livestreams to check out:
Thursday – Signals V2
Of the two '-day' bands that top my list of most-seen bands (the other being Taking Back Sunday, of course), Thursday is the first to announce plans to bring their annual holiday show to the big (or little) screen of your internet-capable devices.
Signals V2 will be the band's second livestream event this year, and will take place on Thursday December 29th at 7:30pm EST. Based on the earlier Signals V1, and the all-star lineup set to participate in V2, this is a must-see. The opening acts are Bartees Strange and Jim Ward (Sparta, At the Drive In). There's also set to be special guest appearances by Norman Brannon (Texas is the Reason, New End Original), Frank Iero (My Chemical Romance), Walter Schreifels (Quicksand, Gorilla Biscuits), and Travis Stever (Coheed and Cambria).
Tickets are available for $13, or for an extra $2 you can contribute towards allowing the band to release additional free tickets for those who are unemployed but still want to catch the show (follow their socials for updates on additional free ticket releases).
I've already listened to Jet Black New Year like ten times today, so hopefully it's true that this year will be better than the last.
Trans-Siberian Orchestra 2020 Livestream
On December 18 (starting at 8pm EST), the Trans-Siberian Orchestra will be bringing their holiday show directly to your home via tsolivestream.com. The "Christmas Eve & Other Stories" performance will be 90 minutes long, but stream access will also include some special pre-show content such as behind-the-scenes footage and classic interview segments.
For only $30, this is a pretty good deal! My parents took my sister and I to see them at the Wells Fargo Center in Philly a few years ago and they probably paid at least double that for parking and snacks ?. I'm not huge on Christmas music, but even I had a good time!
Cyndi Lauper's Home for the Holidays
If you're looking for a free event to add to your watch-list, one option for you is Cyndi Lauper's Home for the Holidays livestream. The event will stream this evening at 8pm EST on Cyndi's TikTok, and again on December 13 at 8pm EST on her Facebook and YouTube pages.
This year's event will feature appearances and performances by: Adam Lambert, Amanda Shires & Jason Isbell, Bette Midler, Billie Eilish, Billy Porter, Billy Steinberg, Boy George, Brandi Carlile, Brittany Howard, Carson Kressley, Cher, Dolly Parton, Harvey Fierstein, Henry Rollins, Jackson Browne, Judy Gold, Justin Tranter, Kim Petras, King Princess, Kinky Boots, LL Cool J, Meg Myers, Phoebe Bridgers, Sharon Osbourne, Shea Diamond, Taylor Swift, Tom Kelly, Tracy Young, Whoopi Goldberg, and Youth Pride Chorus.
Though the event is free to watch, it is benefit event for True Colors United. LGBTQ+ young people are 120% more likely to experience homelessness than all other youth, and True Colors United (cofounded by Lauper in 2008) is dedicated to helping this population.
Find more information and donation opportunities on the True Colors United Website.
The Aquabats! Kooky Kristmas Party!
The Aquabats! hosted a Halloween streaming event earlier this year, and they're back again with a winter holiday show! The Aquabats! Kooky Kristmas Party! kicks off at 6pm PST (9pm EST) tonight (Friday, December 11).
Tickets are $25 for the 60-minute event, and for an extra $10 you gain access to the VIP pre-party. The stream will be available on demand until midnight PST on Sunday, so you'll have all weekend to watch and rewatch as much as you'd like.
Tickets and more info are available at the theaquabats.com/christmas
The Bouncing Souls Live At Studio 4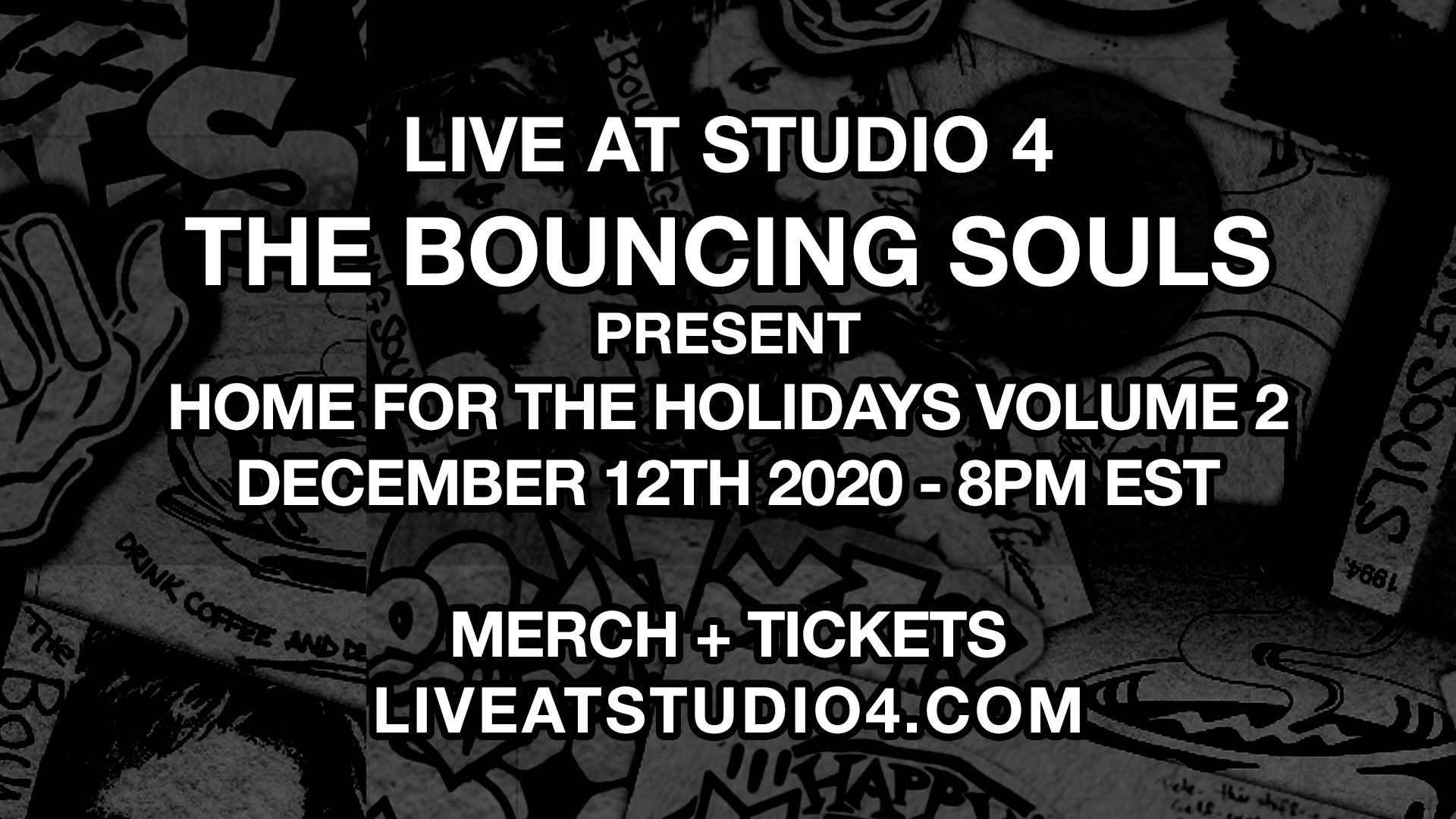 Tomorrow evening at 8pm EST The Bouncing Souls will be livestreaming their Home for the Holidays event. For only $15, you don't want to miss this one. You'll also have until midnight on the 18th to rewatch it as many times as you'd like!
Tickets, merch bundles, and more info are available on the Live at Studio 4 website.
Barenaked Ladies – A Very Virtual Christmas
Next Friday at 9pm EST (and again at 12pm EST/5pm GMT on Saturday for our EU/UK and early-to-bed friends) the Barenaked Ladies are taking their Christmas event virtual. The event will feature sketch comedy written by the band, a few special surprises, and performances, including songs from the Barenaked For The Holidays album.
More info and tickets are available at sessionslive.com/bnl.
---
Which live stream events are you planning to tune into this holiday season? Which artists do you usually see at holiday shows? Let us know in the comments below!